Connect to Community with Virtual Connections
An Entire Aphasia Community at Your Fingertips
Often, it can be difficult for people with aphasia to receive consistent speech therapy due to issues with insurance or accessibility. Virtual Connections offers online meetups where people with aphasia from all over the world can practice their conversation skills multiple times per day, every day of the week.
Our sessions, which are led by speech pathologists and rehab experts, provide a wide range of activities including singing, dancing, yoga, reading, poetry, conversation, and so much more! These daily Zoom sessions are offered to people with aphasia and their care partners at no cost.
Sessions for Everyone to Enjoy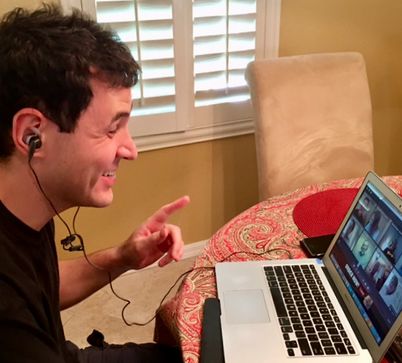 Do you enjoy music, yoga, dance, or games? Are you interested in topics like coping, identity, or strategies for living with aphasia? Sessions offer a variety of themes, activities, and guest speakers, so we know you'll find something you will love!
In addition to offering sessions for people with aphasia, Virtual Connections also offers multiple sessions exclusively for care partners. These sessions address the unique challenges of caring for their loved ones and allow them to connect to others who understand those challenges.
Meaningful Connections for People with Aphasia
and Their Loved Ones
Virtual Connections is a safe space for people with aphasia and their families to join a caring, supportive community. In addition to practicing communications skills that boost confidence, attendees can socialize and build friendships that improve their overall quality of life.
Virtual Connections participants enjoy the community and connections. Here is a look at what some have shared about their experience:
"One day I tried it. I really enjoyed it!"
"It's nice to hear others, even if you can't talk."
"Try different sessions."
"You will make friends."
"I didn't think I would like it. I do!"
"You learn things from experts and each other."