Resources: Find aphasia books, helpful links and resources recommended by Aphasia Recovery Connection on this page
Explore Our Resources for People with Aphasia and Their Families
In addition to several programs designed to improve quality of life for people with aphasia and their care partners, Aphasia Recovery Connection offers numerous resources to further support people on their road to recovery. Many of the following are available for free, so click around to explore what we have to offer.
Aphasia is a complex condition that is often misunderstood, even within the aphasia community. We recommend a couple of books, written or co-authored by our founding members, that provide a first-hand perspective on coping with aphasia and recovering from stroke, traumatic brain injury, or a brain tumor. These books offer a detailed look at how the brain works to recover after injury.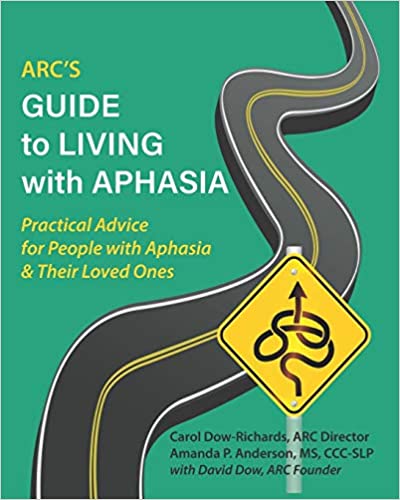 Guide To Living With Aphasia
Author: Carol Dow-Richards and Amanda Anderson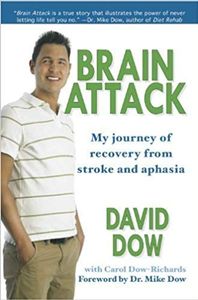 Brain Attack
Author: David Dow with Carol Dow-Richards.  Foreword by Dr Mike Dow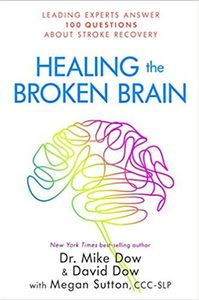 Healing The Broken Brain
Author: Dr Mike Dow, David Dow and Megan Sutton
Looking for videos about aphasia? Our large collection of aphasia-friendly videos on Youtube provides information about aphasia, interviews with aphasia experts, motivational tips, and more! Videos offer visual and audio support, which are important to many people with aphasia who struggle to read. Check it out!
Check out our YouTube channel
Let's raise awareness about aphasia! Download and share our posters on social media or print and hang them at home or in public spaces. These posters are also great to share with family and friends who may not know of or understand aphasia. Our posters are designed to share a message of inclusion and hope for people with aphasia.
There are many websites that provide valuable information to better understand your loved ones' communication needs. We have compiled a list of links that many in the ARC community have found helpful. Aphasia Access, the National Aphasia Association, and Faces of Aphasia are all great places to check out. You can also join our Facebook Group to post questions and share experiences with others on the aphasia journey.
American Stroke Association
https://www.aphasiaaccess.org
https://www.stroke.org.uk/what-is-aphasia/aphasia-and-its-effects
National Aphasia Association
http://facesofaphasia.com
American Speech Language Hearing Association
https://www.asha.org/Practice-Portal/Clinical-Topics/Aphasia/
Stroke Centre.org – Link no longer working…
National Institute on Deafness and Other Communication Disorders
https://www.nidcd.nih.gov/health/aphasia
https://www.aphasiasoftwarefinder.org
https://www.mayoclinic.org/diseases-conditions/aphasia/symptoms-causes/syc-20369518
Personalised Wallet Cards
Daily interactions in the community can be a challenge for people with aphasia. Personalized aphasia cards are a quick and easy way to communicate your needs to others. Aphasia cards provide a brief explanation of what aphasia is and how others can communicate more effectively with you. These cards also include space for your name, address, and emergency contact information.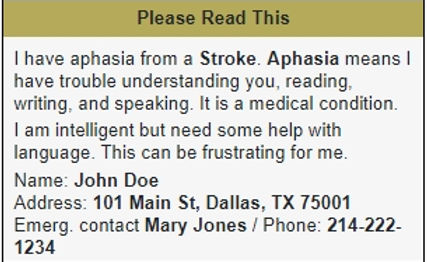 Help raise awareness! Shop our ARC store to find shirts, hats, mugs, and other accessories with aphasia awareness messaging. Shipped worldwide right to your door.
Want to hear more from ARC? Subscribe to our newsletter for the latest updates and resources. We also invite you to join our Facebook community where you can get to know the many families on the aphasia journey.