Aphasia Recovery Connection offers a weekly dance and movement class for people with aphasia to move, create, and connect with others while being guided by a world-class dance educator.
Many who join have paralysis and join seated or even in bed. Our wonderful dance instructor is able to instruct and modify the dances to fit all of the participant's abilities. All are welcome to give it a try as you enjoy moving what you can to music!
Get to Know Our Dance Teacher
Meet Kathy Ustowska, a dance educator and choreographer from Poland who travels throughout Europe performing and teaching. She integrates life and art into our sessions as we become aware of our bodies and the relation to words and verbal language.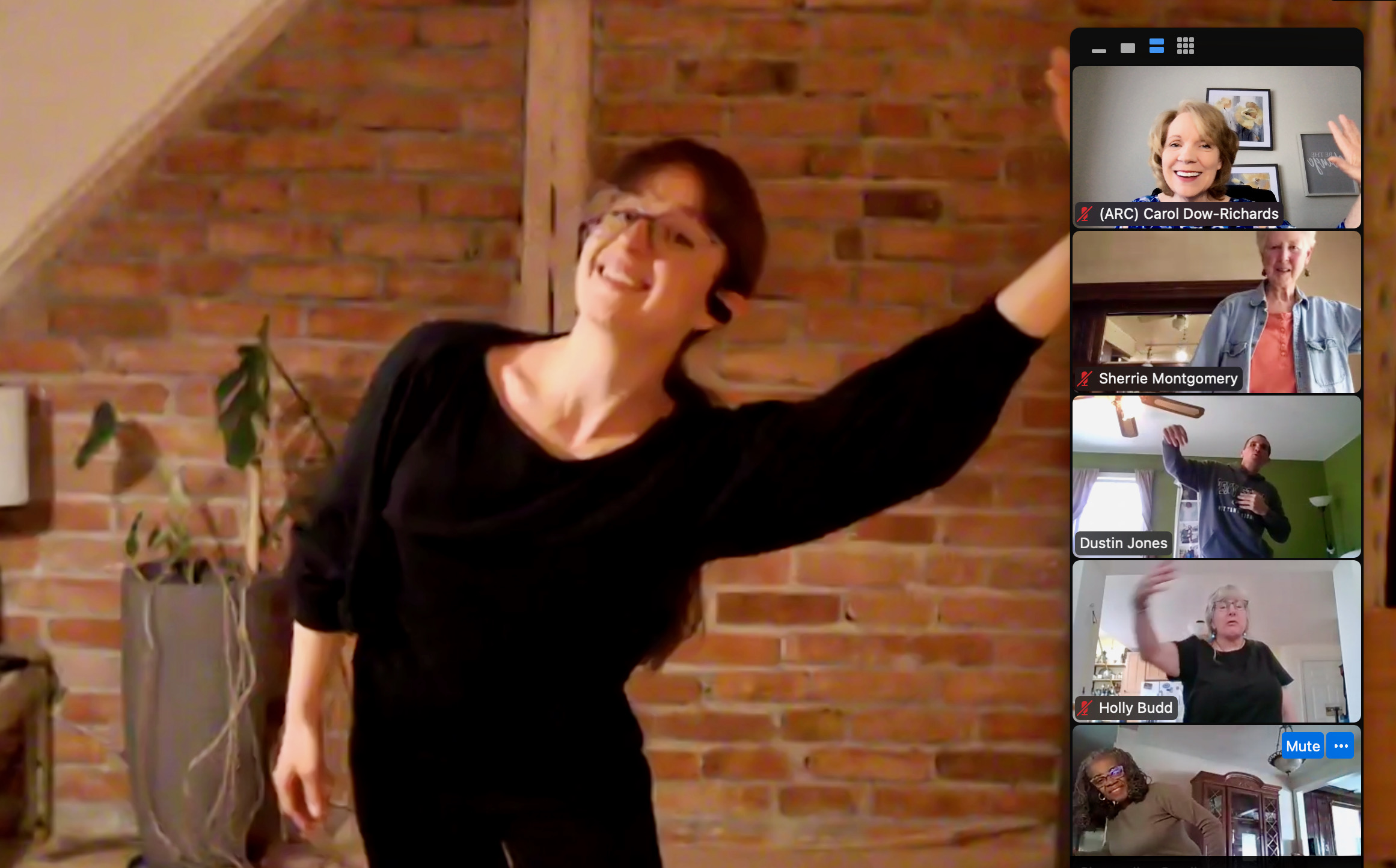 At ARC, we believe that movement can be key to expression and creativity. It can increase body awareness, control, balance, and coordination. By dancing with others with aphasia, it expands a creative potential, imagination, and expression. Dance Between Words creates a space for online sessions where people with aphasia can enjoy music, movement, and find encouragement from our teacher.
Neuro Rehab Benefits of Dance
These Dance Between Words sessions are based on neurorehabilitation research.
"Dance may be able to aid with both physical and cognitive impairments, particularly due to its combined nature of including both physical and cognitive stimulation. Not only does it incorporate physical and motor skill related activities, but it can also engage various cognitive functions such as perception, emotion, and memory, all while done in an enriched environment."
Dhami, P., Moreno, S., DeSouza, J. F. X. (2014), "New Framework for Rehabilitation – Fusion of Cognitive and Physical Rehabilitation: The Hope for Dancing."

Dance Between Words Offered Weekly
Join our weekly sessions for people with aphasia in this supportive and encouraging environment. While classes are designed for people with aphasia, caregivers are welcome to join or assist their loved one as needed.
Here is a look at what some have shared about their experience:
"I love it! She is a great teacher."
"I love the music and group doing it together."
"I don't have to talk, just move and enjoy."
"She is so encouraging. Great teacher."
"It makes me smile. I am happy to dance."
Get Started with Dance Between Words
These sessions are for our Aphasia Recovery Connection members. You can find out about the next class on our Facebook Group. Click here to learn more about our next session.